"La transformación es la ley de la vida espiritual."

That's one of our Founder's sayings that most LCs know by heart after a few years in the congregation. It rings true especially when life's mischief or one's own failings bring the soul down a notch or two.

Greater perspective, deeper knowledge of self, more realistic goals, truer freedom of spirit....

Change is risky. We prevaricate, procrastinate, hesitate... But often much is to be gained.

A friend who collaborates with LC projects in the US told me that at recent meetings the idea that the Legion should respond to the needs of the dioceses and parishes where it is present and not attempt, overtly or surreptitiously, to impose its own agenda has been expressed and embraced by clergy and laity alike.

This is a good thing. Everyone agrees that it is a good thing. It also represents a new and improved way for the Legion to focus its apostolic zeal and share its particular gifts with the Church.

What perplexes my friend is that the local LC priest cringes and objects quite strenuously whenever anyone suggests that this apparent change in attitude is new.

Padre applauds and embraces it, but he adamantly reprimands anyone who insinuates that it constitutes a change, even a subtle change, in the LC's modus operandi. As if change, novelty, would cause the LC to come crashing down... as if the LC were a finished product, deposited in the world with no human intervention and no historical perspective... as if we had nothing to learn, nothing to improve and, therefore, nothing to hope for...

"But, Father," my friend insists, "we weren't thinking, we weren't talking and we certainly weren't operating with this clear and defined purpose before. It is new and we should be happy to say so."

My friend's inclusion at future meetings may be in jeopardy if he persists in making his unpalatable point...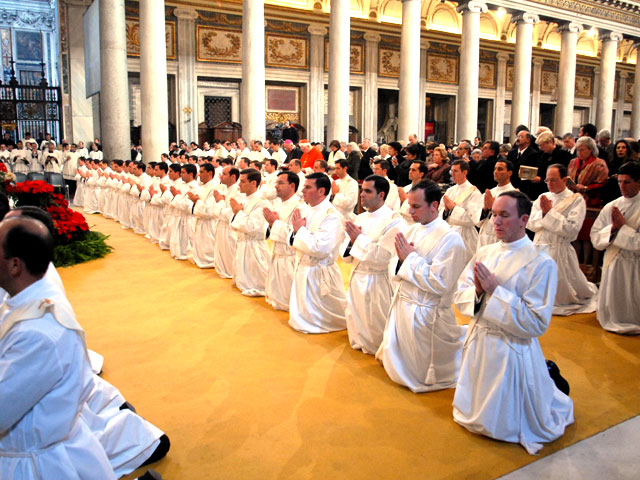 The blogosphere is ripe with speculation about the internal changes – yes, changes – that are slowly surfacing in the LC. Michael Humphrey wrote about it for the NCR, La Jornada ran a typically imprecise piece on it and bloggers like Damian Thompson of the UK Telegraph, Rorate Caeli, American Papist and others have added their speculation on the topic.

I receive mail almost daily from LC, RC and the merely curious asking me about our secret vows, covert promises, clandestine oaths and whatnot.

The derogation of one of our two private vows, the redefining of certain aspects of the superiors' role and the modification of other internal practices by the Holy See was communicated to the LC shortly after Mons. Scicluna's investigation was closed in the early summer of 2005. Scicluna's probe began with the accusations made against Fr. Maciel, but ultimately branched out to examine other complaints regarding structural and disciplinary issues inside the Legion.

Predictably, what most concerns someone like your friendly neighborhood exorcist is how these portentous changes have been interpreted and received behind the walls of Via Aurelia.

Make no mistake, although they hardly raise a ripple on the serene facade of the LC, these few changes that have been made known – only after the prudential grace period for enacting them had come and gone – are nothing short of monumental. In and of themselves they mark a before and an after in the history of our congregation. And none of us know yet what else may be revealed as things progress.

However, the perfunctory announcement made to our communities and the brief commentary that deflected the true import and meaning of what has happened - before silence concerning it became protocol - have only served to dishearten and dampen the spirit of many of us who expect better of the congregation we love and serve.

To portray these changes as something almost 'external' to the LC, to offer only partial and fleeting references instead of trusting and courageous disclosure to the men who have surrendered their very lives to the LC (with trust and courage!), to pretend that nothing has happened of any significance and exhort us to adopt a mindless 'business as usual' attitude... is unworthy of the LC leadership and profoundly disrespectful of her rank-and-file.

We should be happy to acknowledge and embrace the changes, the newness that enriches the spirit and life of our congregation. This, too, should be seen as a 'great blessing' and 'the will of God'. We who pride ourselves on advancing "al paso de la Iglesia" will continue to grow and serve the Church as long as we strive to accept our designated role within it. We have to trust the Church, not fear the truth or the inner freedom that comes with it... and confidently believe that the best years of the LC are still to come if we remain faithful to her.

And that's all I have to say about that.
Peace.